Giving back.
Empowering lives with compassion.
Belief in our people and community.
Our people-driven culture extends beyond office walls and into our local communities. We give back wherever and whenever we can to support charities and organizations that are focused on providing people with the assistance they need.
Over the past several years, we've given back through our annual Season of Giving program, an employee-led initiative, and, most recently, we launched a more extensive program, Firewood in the Field, that supports organizations throughout the year.
These two programs foster support in different ways and they allow everyone at Firewood the opportunity to make a difference in our community.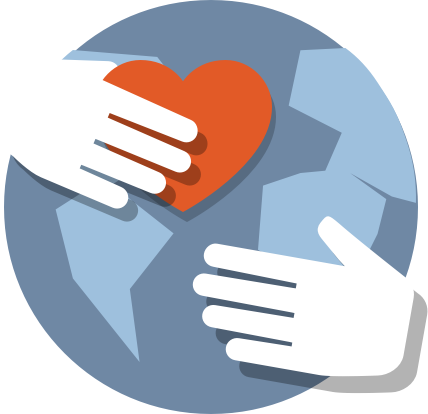 Firewood in the Field: Pro Bono Digital Marketing
Firewood in the Field is an all-year program where Firewood team members volunteer their time using their digital marketing skills, helping charitable organizations achieve their objectives online. We provide Google AdWords setup and optimization support for the $10,000 per month provided by the Google Ad Grants program, up to a total of $50,000 per month of spend.
If you're interested in learning more about this program, please fill out the form. A Firewood team member will reach out to you via email to learn more about your organization and answer all of your questions.
Season of Giving Program: Employee-Nominated Charities
Each holiday season, our employees nominate local charities and organizations. It's one way we can go beyond our everyday responsibilities of helping our clients and give back to our communities, both financially and through longer-term initiatives. For nearly five years, we've been fortunate (thanks to our success) to provide financial assistance to many outstanding charities. In 2017, the following four charities received initial contributions of $10,000 each:
Senior Access provides important support services and socialization opportunities for people with varying stages of memory loss. Unique among their programs is the Excursion Club, which serves clients with earlier stages of memory loss who are still relatively mobile. These weekly "field trips" take clients all around the Bay Area—to museums, exhibits, factory tours, musical and theatrical performances, and more—providing mental and physical stimulation, a sense of "normalcy," and a chance to interact with peers in an understanding and supportive group environment.
NAMI – San Francisco chapter provides resources, education, and support for not only those that suffer from mental illness, but for their family and friends as well. They give hope to those that have none and fight to help victims see the best in themselves.
Hack the Hood is an award-winning nonprofit that introduces low-income youth to careers in tech by hiring and training them to build websites for actual small businesses in their own communities. During 6-week "bootcamps," young people gain valuable hands-on experience, build a portfolio, and learn about opportunities in the tech industry, as well as build critical technical, leadership, entrepreneurship, and life skills with mentorship from staff and tech professionals working in the field.
UndocuFund provides fire relief in Sonoma County via direct assistance to undocumented victims of the Northern California fires. Their mission is to support undocumented children, families, and communities affected by the fires in Sonoma County and help them recover and rebuild. One hundred percent of all donations will go to victim support.
Responding to a Community in Need
The tragic fires in the North Bay struck an emotional cord with us, as our first Firewood office was in Glen Ellen, a community hit particularly hard by the disaster. We decided to host one of our monthly out-on-the-town get-togethers in-house and donate the savings. Then our team decided we could do more. Our "night in" became a fundraiser which, between staff contributions and our pledge to match the donation, raised over $16,000—a testament to what we're capable of as a team. We selected a well-deserving organization to donate the funds to:
The La Luz organization is a nonprofit based in Sonoma Valley. Their mission is to be a catalyst for change in Sonoma Valley through health, education, and financial security. Since the fires, they've focused their "Fire Fund" on critical emergency services for their clients—people who hold low-wage jobs in hospitality, landscape, healthcare, and winery businesses, and who are critical to Sonoma's economy. These people were seriously impacted because of the loss of their homes and the loss of wages in the aftermath of the fires. And, most importantly, many of these people didn't have insurance or qualify for government aid programs.